Effective use of ICT based science teaching learning objects.
The guidelines aim at providing science secondary school teachers with the competences to make an effective use of ICT based science teaching learning objects.
Teachers' Guidelines
3 Appropriate Tools for Professional Development
3.3 Developing a Personal or Professional Learning Network
3.3.1 Personal or Professional Learning Network and Instructional Design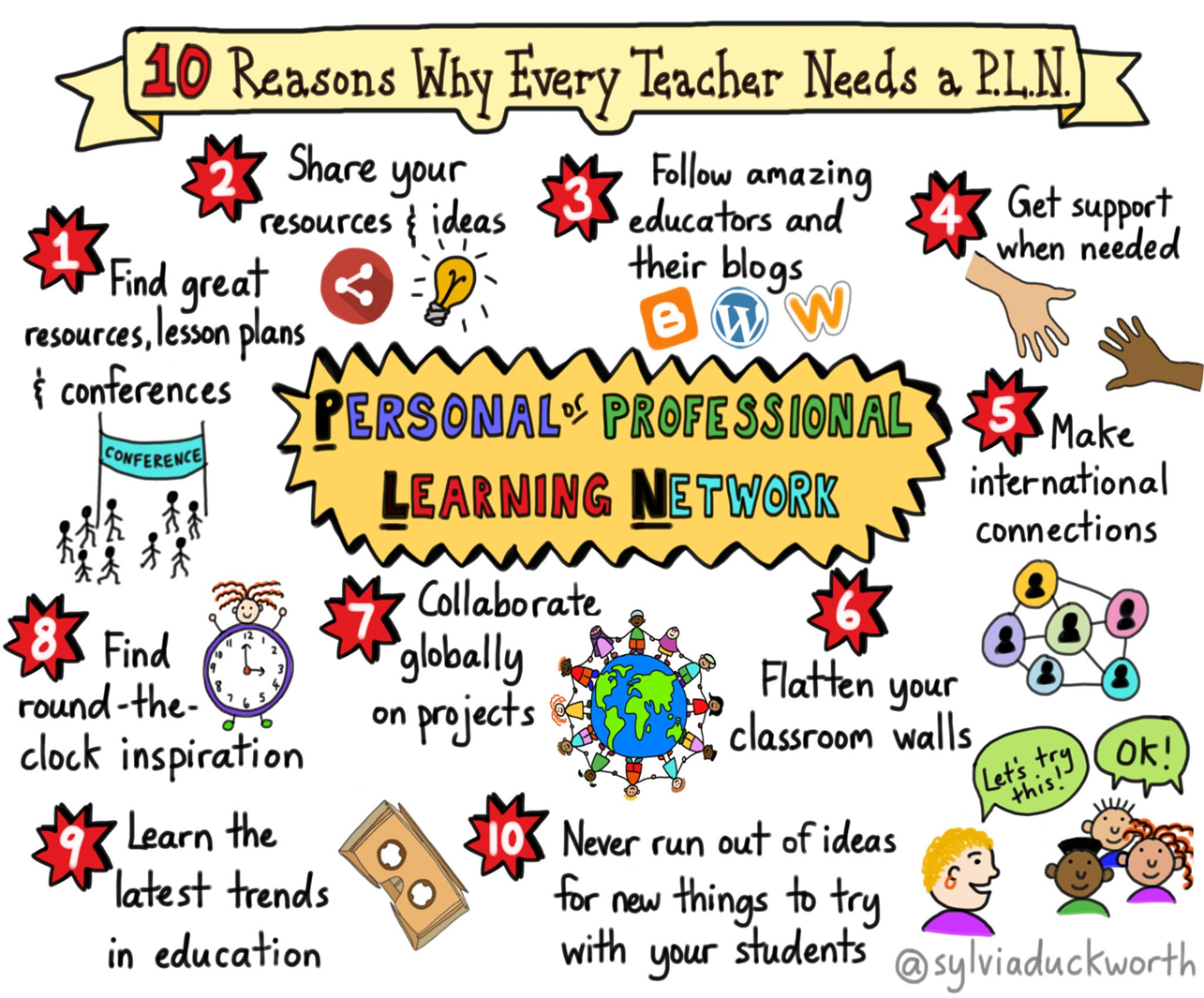 This graphic by Sylvia Duckworth captures many of the advantage of Personal and Professional Learning Networks. The day to day burden of timetabled teaching hours as well as the need for preparation, assessment, evaluation and feedback is a driver for organisation of CPD. Digital competency opens a rich opportunity for sharing, collaboration, support and inspiration to enhance teaching and learning.
There is no substitute for actual attendance at conferences but many of these (especially where they are related to ICT and Digital competencies) are available for on-line or remote attendance. Using social network tools like Twitter allows a high level of connectivity and collaboration.
Learning Design has emerged as a means of providing practitioners with the guidance and support they need to harness the potential of technologies. It can also be used by teams of practitioners to co-design learning interventions.
Learning Design
Beetham and Sharpe (2019) in the third edition of their text Rethinking Pedagogy for a Digital Age examine contemporary issues in the design and delivery of effective learning through a critical discussion of the theoretical and professional perspectives informing current digital education practice. This third edition has been thoroughly revised to address socio-cultural approaches, learning analytics, curriculum change, and key theoretical developments from education sciences. Illustrated by case studies across disciplines and continents for a diversity of researchers, practitioners, and lecturers, the book is an essential guide to learning technologies that is pedagogically sound, learner-focused, and accessible.
One of the advocates of new methods of Learning Design, Grainne Conole, has produced a framework - The 7Cs of Learning Design. This framework illustrates the key stages involved in the design process, from initial conceptualisation of a learning intervention through to trialling and evaluating it in a real learning context. The framework implements the following stages:
Conceptualise: What is the vision for the learning intervention, who is it being designed for, what is the essence of the intervention, what pedagogical approaches are used?
Capture: What Open Educational Resources are being used and what other resources need to be developed?
Create: What is the nature of the learning intervention the learners will engage with and what kinds of learning activities will the learners engage with?
Communicate: What types of communication will the learners be using?
Collaboration: What types of collaboration will be learners be doing?
Consider: What forms of reflection and demonstration of learning are includes? Are the learning outcomes mapped to the activities and assessment elements of the learning intervention?
Consolidate: How effective is the design? Do the different elements of the design work together?
Collaboration with other teachers is important and sharing is possible through relevant social media sites. For example Ireland has a weekly teach-meet on Twitter through @EdChatIE and inevitably this will provide links to other events or collaborations like TechWeek Ireland.
Online Resources